It's a new year, and you may have decided to focus on eating healthy or consuming more vegetables. One easy way to accomplish both of these goals is to enjoy vegetables with a bowl of hummus. Hummus is made of chickpeas which is a good source of fiber. Hummus can come in many different flavors such as garlic, red bell pepper, basil, and beet! Green Goddess produces a fermented beet juice and they have created a beet hummus recipe which incorporates this fantastic product. Fermented Beet Juice has been used for 2 centuries as a fermented health drink. Fermentation accentuates the nutrient line up making it a powerhouse for detoxing the liver, other organs and the blood.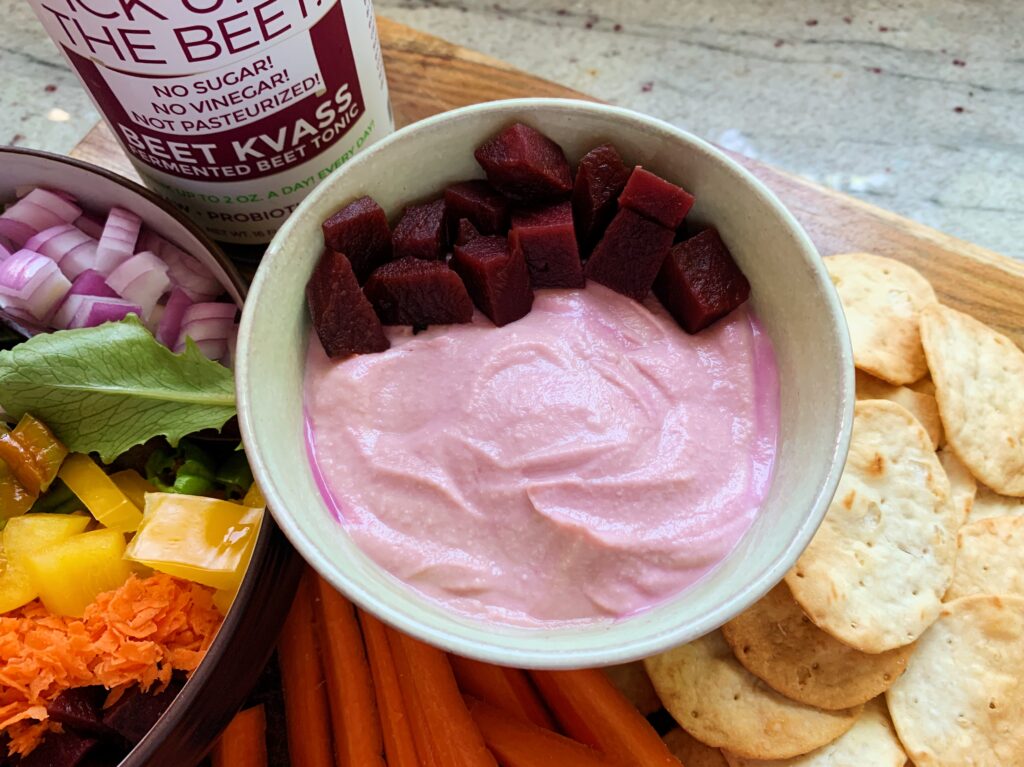 Ingredients:
1 can chickpeas, rinsed and drained
3 cloves of garlic
1/4 cup lemon juice
1/4 cup grated fermented beets
1/4 cup tahini
1/4 cup extra-virgin olive oil
1 teaspoon salt
1/4 cup ice water (optional)
Directions:
Step 1: Rinse and drain chickpeas.
Step 2: In a food processor or high-powered blender, add grated fermented beets, garlic, and olive oil and process until mixture is almost smooth.
Step 3: Add tahini, chickpeas, lemon juice, and salt to the mixture.
Step 4: Blend on high for 2-3 minutes until smooth. Be sure to scrape edges of the blender halfway through, drizzle additional olive oil while blending if necessary.
Step 5: Add a drizzle of ice water while blending for extra creamy texture (optional).
Step 6: Pour into a serving bowl and top with fresh herbs or more fermented beets. Serve with veggies and pita bread.
Pick Up the Beet! Beet Kvass Fermented Beet Tonic is available in most Bashas' stores in the refrigerated section.