Due to an abundance of caution related to the health and safety of the vast quantity of gallery visitors we receive daily, effective at the end of business on Friday, March 13th, The Eddie Basha Collection of Western American and American Indian Art will be temporarily closed until further notice.  We will continue to monitor the situation and will notify everyone when the gallery is once again open to the general public. 
 "Art is meant to be shared," and we remain committed to doing so on social media and on our website as has been our practice. 
 We appreciate your understanding and apologize for the inconvenience. Thank you.
The Zelma Basha Salmeri Gallery of Western American and American Indian Art
The focus of the collection lies in two specific areas: Contemporary Western American Art and Contemporary American Indian Art.
It is a vast composite of oil paintings, watercolors, acrylics, pastel and charcoal drawings, pen & inks, bronze, wood and natural stone sculptures, wood-turned bowls, basketry, pottery, kachinas and jewelry. There are well over 3,000 pieces of art depicting numerous mediums displayed throughout the gallery.
Hours of Operation
Typically, the gallery is open Monday through Friday, 9:00am to 4:00pm.
However, we recommend you always call our information line at 480-895-5230 and press option 2, to make sure the gallery is open prior to your visit.
Closure dates are listed on the telephone information line each current month.
The gallery is closed to the general public on the weekends.
Admission
Admission to the gallery is free.
Groups
Visitors and groups of less than 25 people are welcome without an appointment. Groups of 25 or more are asked to schedule an appointment within a two-month time frame.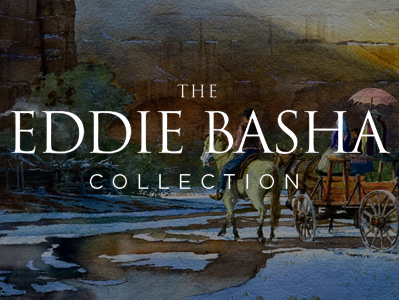 The gallery is located at:
22402 S. Basha Road
Chandler, Arizona 85248