The bustle of Thanksgiving is in the air, and distant family members can once again return home. Like you, Bashas' member families anticipate the joy of the familiar sounds of home. Small, giggling faces at your breakfast tables. And late-night kitchen conversations filled with the life and laughter of grown siblings and new friends.
You're also reminded – "I have to feed these people!"
Meal planning is never easy on "regular" days. But days before "the day"? It can be a real challenge. That's why we've asked the expert butchers at your local Bashas' Butcher Shop to help.
Backyard Heroes
Arizona's weather is amazing this time of year. So if your house is filling to the brim, get outside. Then, choose your most talented backyard heroes and get them grilling. Packed house? No worries. Bashas' butchers will help you pick the best cuts – and get the best values on USDA prime or Choice steaks. They can also offer amazing marinades and rubs.
Prefer fish, chicken, or shrimp? From fresh Atlantic salmon and swordfish to jumbo shrimp and kabobs, your local Bashas' butcher can help plan your next grill adventure without the adventure. That includes recommending the best way to store and prepare every cut. We can help. Let us. It's what we love to do.
Best Burger Ever
Bashas' has the best burgers in Arizona. Why? Because we grind our beef from full cuts of meat, three times a day. So when you buy ground sirloin from Bashas', you're buying a sirloin. It's that simple. If that sounds like Bashas' butchers are obsessed with the quality of the meals you serve your family, you're right.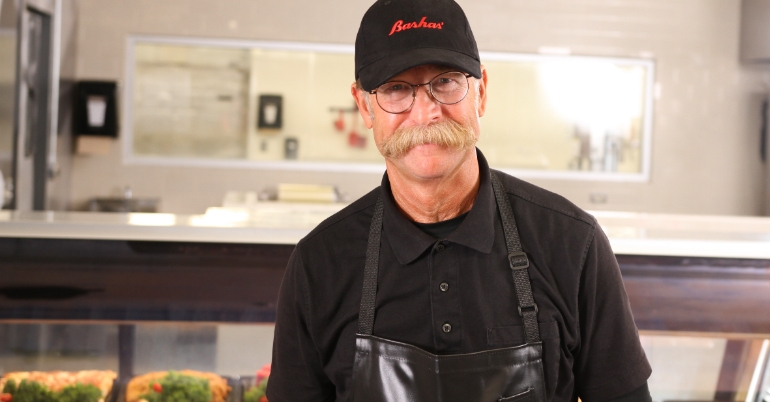 We're On Your Side
You've ordered your cut. Don't stop now. Bashas' butchers can help you create an entire meal while you wait. We know what pairs well with everything because, well, we make each of them fresh, every single day. From three different varieties of Twice-Baked Potatoes to chorizo and cream cheese-filled Jalapeño Poppers, to our famous Fresh-Made Seafood Salad, your butcher will pack up your meal and get you on your way, back to the people you love.
Butcher Secret
Red or white tonight? Not sure? Your Bashas' butcher will recommend the perfect robust red wine for that roast, tell you what's on sale, and take you to the aisle. Just ask!
Did you know you can call ahead and Bashas' butchers can have your order ready for you when you arrive? Better yet, send someone from the family. We'll take care of them. You've already got plenty to do.