"To succeed in business, support your community."
To any Bashas' member, that phrase is more than words. It reflects the values of our founders' family, which welcomed strangers to their table during the great depression. And it lives in the actions of our Bashas' members and customers, who continue to demonstrate a commitment to giving that began almost 90 years ago.
Connecting Customers and Local Charities
We at Bashas' are constantly moved by the generosity of our customers. Through our Charity of the Month program, our customers have donated millions to charities that do great work in their communities. Over 30 charities benefit from these donations, such as the Boys & Girls Clubs of Arizona, the U of A Cancer Center, the Society of St. Vincent de Paul, and various food banks throughout Arizona.
Donate at the register of your local Bashas' store and support charities in your community – and even your own neighborhood!
Bashas' New Charity of the Month Recipients for 2022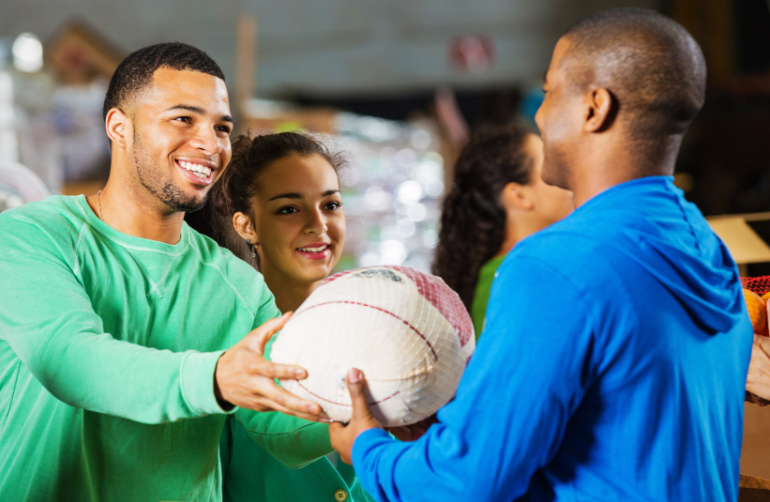 30 Years of Turkey Tuesdays
2022 will mark the 30th anniversary of Turkey Tuesdays, a tradition that's brought Thanksgiving turkeys to the tables of many thousands of families in need. It's a significant milestone we've reached with the help of our customers, the Society of St. Vincent de Paul, and 12NEWS.
Buy one, give one.
The recent 2021 event was a wonderful success with 12NEWS broadcasting live from Bashas' parking lots, as customers generously purchased an extra turkey to donate to local families in need. All the turkeys purchased – both those customers donated, and those they brought home to enjoy with their families – were offered at a sale price below their actual cost to Bashas'.
Nourishing Our Community, Today and Tomorrow
Being a source of healthy foods for families across Arizona, the Navajo Nation and parts of New Mexico is Bashas' #1 concern. We're proud to say 95% of our stores participated in our Grocery Rescue Program during 2021, saving literal tons of products from going to waste and donating them to local food banks. But it takes more than meals to truly nourish a community.
Bashas' Commitment to Charity extends to these five key areas – Hunger, Education, Veterans' Issues, Disaster Relief, and Community Enrichment through arts and culture.
It's no secret that times are changing, and new things are on the horizon for our family, given the partnership we've begun with the Raley's Family of Fine Stores. But what will never change is Bashas' commitment to caring and supporting those in need within the communities we've called home for nearly 90 years.