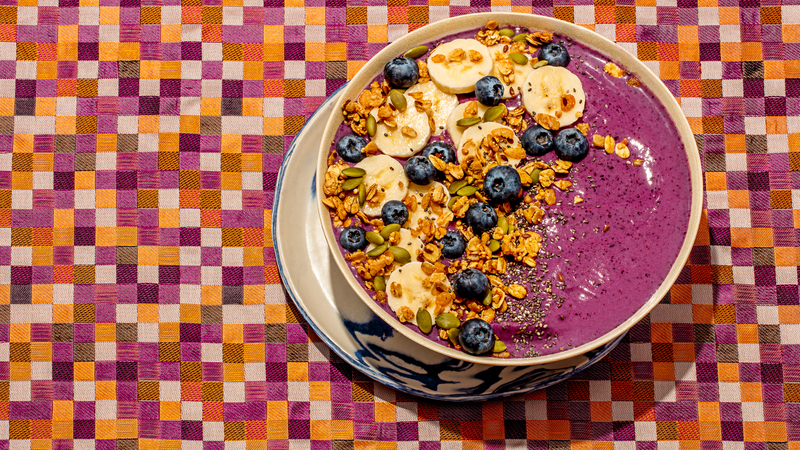 The Açaí Bowl is all the rage because of the antioxidants, vitamins, and minerals that are produced by the acai fruit. What is acai, pronounced ah-sigh-ee? The acai is a type of small berry that is deep purple in color. It is produced on the acai palm tree which is native to Central and South America. To get your morning started right, try this Blueberry Banana Açaí Bowl crafted by Chobani. The combination of berries, bananas, and oats makes for the perfect breakfast or late morning snack!
Ingredients:
Açaí bowl
1 cup Chobani® Vanilla Blended Greek Yogurt
½ cup frozen blueberries
½ cup frozen blackberries
2 frozen bananas
100 grams frozen açaí purée
½ cup coconut water
2 tablespoons rolled oats
Toppings:
½ cup granola
¼ cup blueberries
1 thin sliced banana
2 teaspoons toasted pumpkin seeds
½ teaspoon chia seeds
Açaí bowl Instructions:
Combine all ingredients in a blender and blend until smooth. Portion 1 ½ cups into each of 2 bowls.
Top each bowl with ¼ cup granola, 2 tablespoons blueberries, ½ of a sliced banana, 1 teaspoon pumpkin seeds, and ¼ teaspoon chia seeds.
You can find all the ingredients you need for your Açaí Bowl at Bashas'. At Bashas', we have all the flavors of Chobani yogurt to make your acai bowl different every morning!