Hispanic heritage month is a special time in the United States, recognizing the contributions of the Latin people and celebrating their culture and heritage. It begins on September 15, which is the anniversary of independence for five Latin countries and lasts through October 15. During this month, Mexico's Independence Day (September 16) is also celebrated with parades, festivals and large family gatherings.
In honor of Hispanic Heritage Month, we would like to share one of our favorite recipes, Chorizo and Queso Fresco Tacos Dorados from Cacique. We hope you'll celebrate with us by trying out this recipe right in your own kitchen! #GoAutentico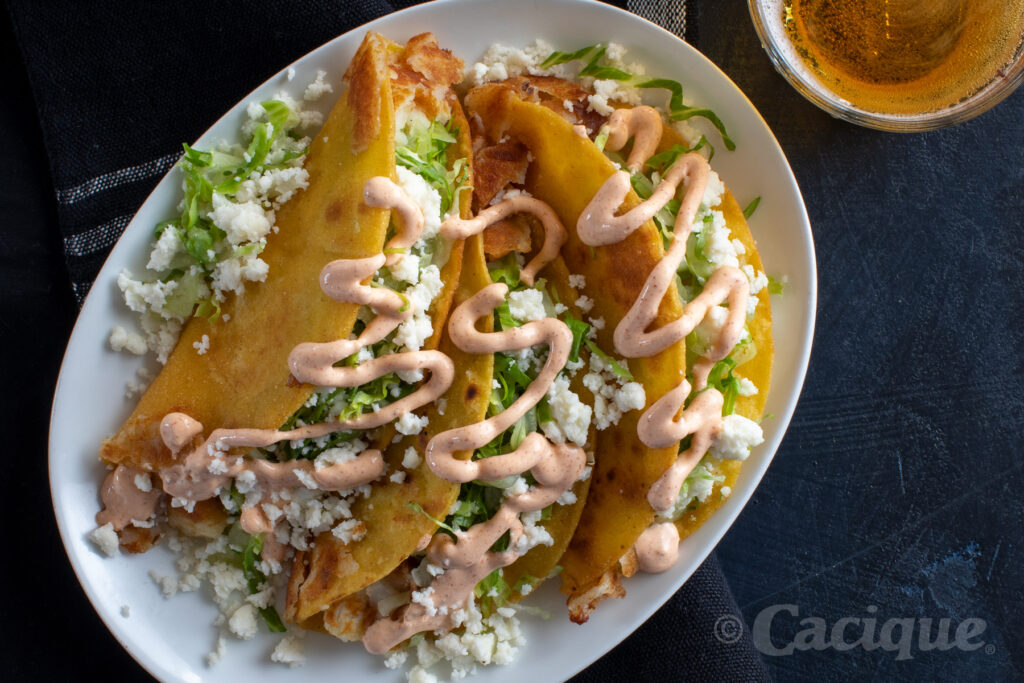 Chorizo & Queso Fresco Tacos Dorados
Prep Time: 30 min
Cook Time: 30 min
Servings: 12
Ingredients
2 (9-oz) packages Cacique® Pork Chorizo
1 (10-oz) package Cacique® Ranchero Queso Fresco, crumbled
12 small tortillas, preferably corn
Neutral oil for frying
14 corn tortillas
1 cup Cacique® Crema Mexicana
1 cup of shredded white cabbage
2 Tbsp of your favorite hot sauce or minced Chipotle in Adobo sauce
1 lime
Directions
Add the Cacique® Pork Chorizo to a large nonstick skillet or well-seasoned cast iron pan. Cook over medium-low heat, using your spoon to break it up; stir regularly until it is completely warmed through and deep brown (scrape the crispy bits from the bottom of the pan).
Transfer the chorizo to a mixing bowl and stir in 1 cup of crumbled Cacique® Ranchero Queso Fresco. Set aside.
To toast the tortillas, set them directly over a gas stove's burners and turn the flame on medium-low. Cook until lightly blistered and charred in places, 30 seconds to 1 minute per side (use tongs to flip them). As they finish cooking, stack and wrap them in a clean, dry dishtowel so they stay pliable.
Divide the chorizo filling evenly between the tortillas and fold in half to close. Generously coat the bottom of your skillet with oil and heat over medium-high until it's shimmering. Working in batches so the pan isn't overcrowded, fry the tacos for 1 to 2 minutes per side, until the tortilla is crisp and golden. Place on a paper towel to drain.
To serve, combine the Cacique® Crema Mexicana with the hot sauce or minced chipotle. Drizzle this over the tacos and top with shredded cabbage and the remaining Cacique® Ranchero Queso Fresco. Serve with wedges of lime.
Find all of your favorite Cacique products and ingredients at your local Bashas'!