Are you afraid to prepare your own tofu? Or, are you tired of tasteless tofu? A delicious tofu is all about the prep! When you squeeze out the excess moisture you start with a sponge-y base that is just begging for flavor! Let the tofu sit for 30 min before marinating overnight for a tasty plant-based protein for all sorts of dishes! You can find tips on removing water and cooking tofu on the organicgirl Instagram page!
A tasty way to use your perfect tofu is in a salad as the main protein.
Grilled Pomegranate Balsamic Tofu Salad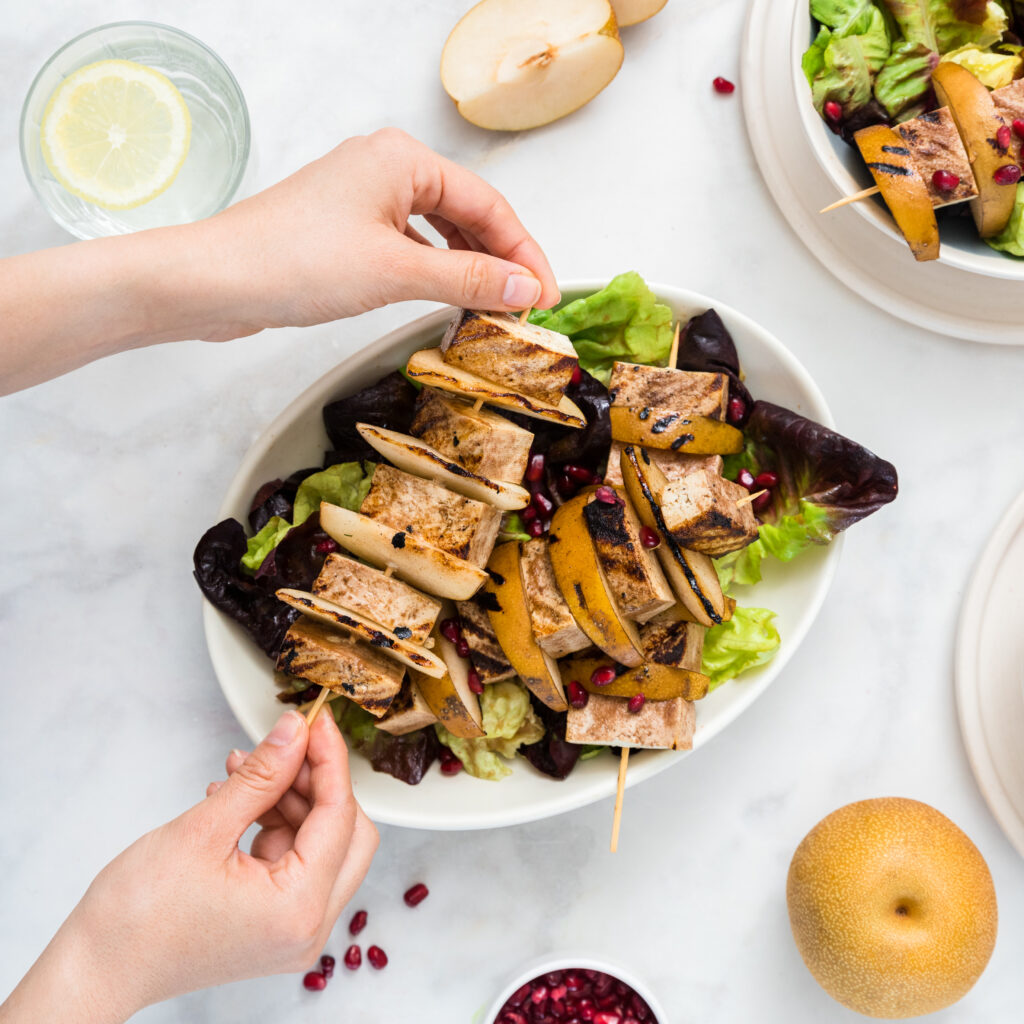 Makes 4 servings
14-16oz tofu
¾ cup organicgirlⓇ pomegranate balsamic dressing, divided
2 Asian or other firm pears, cored and cut into wedges
1 package organicgirlⓇ butter, plus!
¼ cup pomegranate kernels
1. Cut tofu lengthwise and place on a kitchen towel. Place a cutting board on top and weight with a few cans (or whatever you have on hand) for 20 minutes.

2. Slice tofu into about 2″ squares and arrange in a baking dish.
3. Coat tofu with ½ cup dressing. Cover and refrigerate at least 1 hour and up to overnight. Thread marinated tofu and pears onto skewers.
4. In a lightly oiled grill pan or skillet over medium-high heat, cook skewers until tofu is browned on all sides, 2-3 minutes per side.
5. In a large bowl toss lettuce with remaining ¼ cup dressing. Divide lettuce between serving plates, top with tofu skewers, and sprinkle with pomegranate kernels.
Helpful videos on creating this delicious salad can be found on the organicgirl website. You can find all of your favorite organicgirl products at your local Bashas'.