On most holidays, we celebrate tradition. But New Year's Eve is about great things yet to come. No matter how you plan to celebrate, the folks at Bashas' are ready to help you prepare. So relax – and spend more of your holiday celebrating.
Sliders are perfect for a party or midnight snack! Pair some fresh-baked rolls from Bashas' bakery with our prepared BBQ pulled pork or seasoned shredded beef.
Bashas' party trays are always a hit – even for a party of two! You'll also find a variety of prepared dips in our deli, and the freshness of the crusty bread in our bakery makes them even more delicious. To make things easy, ask your Bashas' baker to slice it for you – and feel free to call ahead to your Bashas' butcher or deli manager as well. That way, you can just preorder, pick up in-store or on the curb, and party on.
Gear Up for Game Day
For sports fans, there's nothing like nonstop college football on New Year's Day. So gather your squad, and make sure a Bashas' run is part of your bowl game playbook. Grab some brats or check out our famous selection of Gourmet Burgers for the grill, and don't pass on the prepared sides, they're right in the butcher's case.
Game-time decision: Bashas' Jalapeño Poppers, or our famous Tortilla Chips? These crowd-pleasers are made right in our store… Why not both?
If you like to go for dessert during the 4th quarter, don't forget to visit Bashas' bakery. We'll help you score big points with treats like a football-themed cake, or cookies decorated in your favorite team's colors. The winning move is to call in your order before game day.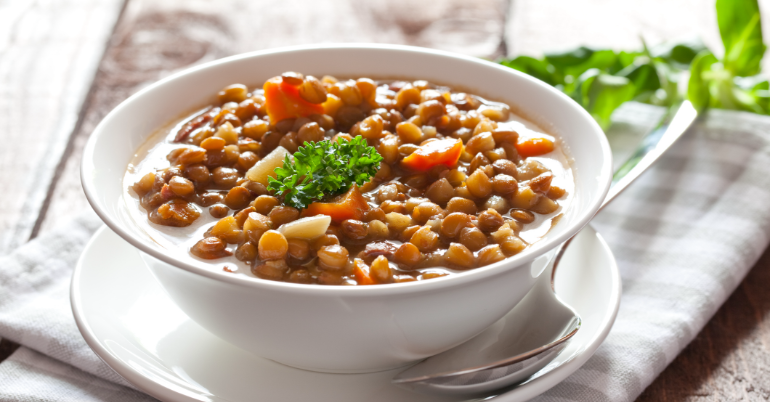 A Recipe for a Good Year
The New Year's holiday is a great time to look forward to what the next 12 months may bring. Many of us make resolutions this time of year – to eat healthier, perhaps get wealthier, or enjoy more of what's important.
We could all use some luck in 2022!
Many families make a tradition of enjoying special dishes or ingredients around the new year. Some believe these foods bring good luck – but at the very least, they're all healthy options which won't mean cheating on your resolutions just yet!
Lucky You. Try These to Kick Off '22
Grapes
In the Spanish tradition of Las Doce Uvas de la Suerte, 12 grapes are eaten to bring luck in each of the 12 coming months. The trick is to eat one grape with each chime of the clock at midnight – although many use a single grape to garnish the glass of champagne they'll use to toast the new year.
Lentils
The tradition of eating lentils to bring luck hails from Italy, and it's believed that the reason is the flat, rounded legumes' resemblance to the Roman Emperor's coins. Whether you believe in lentils' power of good fortune or not, they make an always-great addition to hearty winter soups.
Cabbage
If you've ever heard cold, hard cash referred to as "cabbage," you'll surely understand why this food is associated with wealth in the new year. While corned beef and cabbage is the traditional recipe, why not try Korean-style kimchi, or simply ask for an extra helping of coleslaw?
Black-Eyed Peas
You can trace this tradition's roots to Southern soul food, but today families across the country prepare this healthy and delicious dish to bring luck in the new year. Some toss a silver dollar into the pot to bring about riches – though, for safety's sake, we recommend simulating cash with some collard greens.
Mandarin Oranges
As it happens, the Chinese word for "mandarin" – Kam – sounds a bit like the Chinese word for "gold." This might be the reason many believe oranges can bring a year of prosperity. In Arizona, several varieties are in season around the New Year – and all are rich in vitamin C.