Winter is only a week away, and the holidays are here. As you prepare for the annual bustle, Bashas' bakery is here to make your holiday meals delicious and delightful. But first, let's begin with a little self-care.
Cool Nights, Hot Soup & Bread Bowls
Cool winter air has returned to the desert Southwest, just in time for the holidays. So put on that sweater, recharge, and treat yourself to a bowl of your favorite comfort soup in a Bashas' fresh-baked Sheepherder Bread bowl. Made from our famous Crusty Bread recipe, the 8 oz. "bowl" is perfect for your favorite Potato or Italian soup. Prefer dips instead? Try the 16 oz. size with spinach dip and have your private appetizer party before the big dinner party begins.
Holiday Bread
Planning for the holidays just got a little easier at Bashas' Bakery. Here's everything you need for that big meal and those little moments in between.
Scratch Rolls
Bashas' bakers take pride in being allowed to bake for your family. We want you to feel that same pride when you bring our scratch rolls into your home for the holidays. That is why we bake our rolls fresh, seven days a week. Choose your favorites from wheat, potato, multigrain, sourdough, and butter flake rolls. Just remember to order a few extras for the drive home.
Crusty Bread
We're honored Bashas' famous 16 oz. Crusty bread is a holiday staple for so many Arizona families. But did you know Bashas' hoagie rolls, baguettes, and french sticks are also made with our famous Crusty Bread recipe? We even have a Petit Crusty Bread loaf, perfect for two people (if you're sharing).
Baker's Tip: Let us do the work before your holiday party. Ask your Bashas' baker to slice any loaf in our bakery. From perfectly-sliced baguettes for your favorite appetizer toppings to hoagie subs for the big game, we're happy to help.
Bolillo With Everything
We love traditional Mexican Bolillo Bread Rolls. That's why Bashas' bakes bolillos fresh every day, using the same simple, traditional ingredients that give each roll that soft crusty shell and doughy center you love. Also perfect for a Mexican torta or mollete, try a bolillo and a pat of butter as the ideal side for your favorite "Caldo" recipe.
Did You Know?
Bashas' Bakery makes our delicious Challah bread and can help you with special orders for your event. Just contact your local neighborhood Bashas' bakery for help.
Holiday Cookies Are Here
Bashas' bakers don't think the time-honored tradition of making holiday sugar cookies has to be a chore. That's why we offer our ever-popular sugar cookies also as cookie kits, complete with the icing of your choice. Have a unique custom shape or icing design you need or a volume order for your corporate party? No problem. Our bakery staff can also help you plan your next big event.
December Donuts
Perfect for every holiday party, or better yet, as a gift to yourself. You probably already know about Bashas' 40+ specialty donuts, made fresh at every Bashas' bakery every day. But you may not know that every year, Bashas' family of donut designers also creates a special "limited edition" donut for each week of December.
Behold! Bashas' Bakery Holiday Donuts for 2021. Get these works of art before Santa arrives.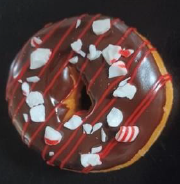 Candy Cane Donut
Available 12/5-12/11
Bashas' favorite. A peppermint-flavored, chocolate-iced raised ring donut. Don't forget the red drizzle with candy cane and Christmas sprinkles.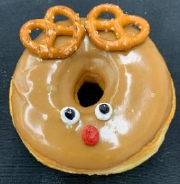 Maple Reindeer Donut
Available 12/12-12/18
The first donut in front of the sleigh. Our remarkably delicious, maple-iced raised ring donut with traditional pretzel antlers, red nose, and eyes.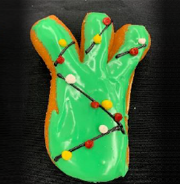 Arizona Christmas Cactus Donut
Available 12/19-12/25
Arizona's favorite. A green-iced saguaro cactus-shaped raised donut with an equally delicious string of lights.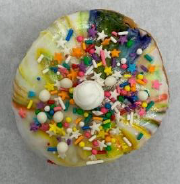 New Year's Sprinkle Explosion
Available 12/26-1/1
Look out for this ​​vanilla rainbow of white n' glossy swirl frosting on top of a Bismarck donut. It's a sprinkle explosion.