Tis the season for festive drinks, so beautiful they're destined for your Instagram feed. For us, the holiday season is all about connecting with loved ones whether that be in person or over zoom this year. Our favorite way of doing this is over flavorful food and beverages that are just as tasty as they are pretty. To inspire our community to do the same, So Good So You created a Plant-based Holiday Recipe Guide designed for two to share.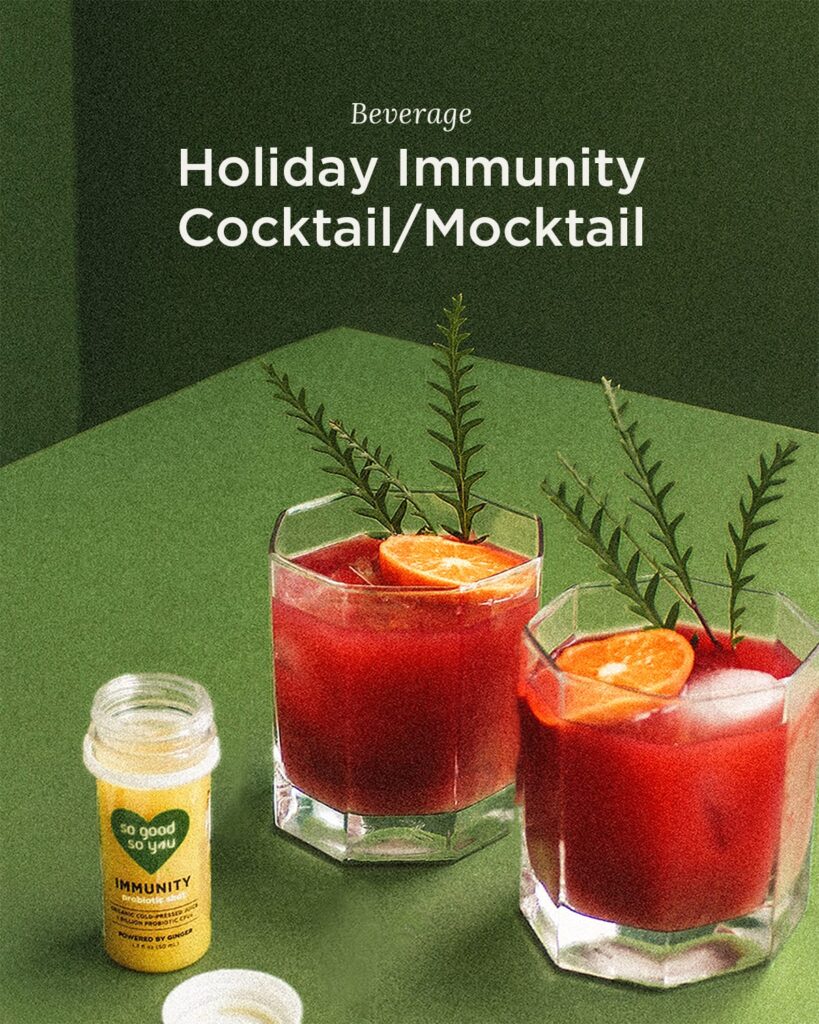 Every delicious meal spread calls for an equally delicious drink to pair along with it. This Holiday Immunity Mocktail/Cocktail is made with So Good So You's best-selling Immunity shot for an extra punch and 1 billion CFUs of probiotics for an added health bonus! Cheers, friends!
Holiday Immunity Mocktail/Cocktail
*This recipe makes 2 cocktails
Ingredients – Dried Herbal Tea Blend
5g hibiscus
5g rosehip
10g dried orange slices
8g lemongrass
Remaining Ingredients
So Good So You Immunity shot
1 T Agave
Fresh orange or clementine
Suggested alcohol mixer: Gin or Vodka
Directions:
Cold steep herbs for 6-12 hours by adding the herbs to 1 ½ cups cold water and set in the fridge or cool place.  Strain through fine-mesh strainer. 
Stir Agave into tea blend.
Pour tea blend over ice between two glasses.
Add 1 So Good So You Immunity shot to each glass.
Garnish with a fresh squeeze and slice of orange or clementine.
You can find So Good So You's Immunity Shot at your local Bashas' in the Produce section.