Have you ever tasted an olive oil cake? It's super moist on the inside and perfectly golden with the slightest crunch on the edges. It's not too sweet and pairs well with so many different fruit compotes and flavors. For this recipe, the mint and lemon flavors leave the palate refreshed and clean.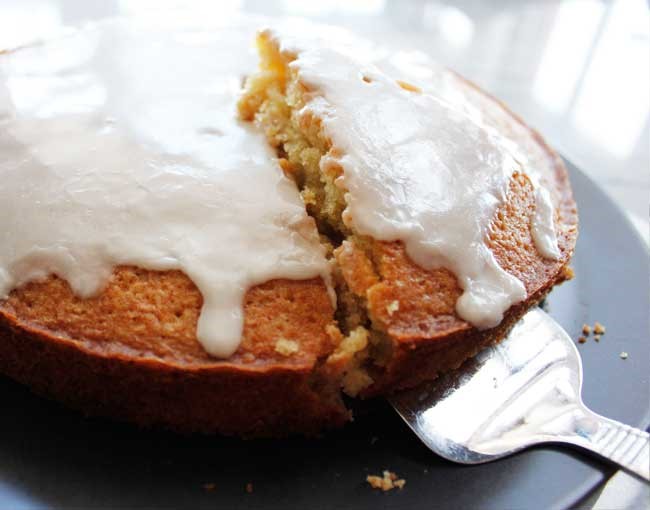 Ingredients
for cake
2 eggs
1 cup sugar
3/4 cup olive oil
1/2 cup milk
1/4 cup DIABOLO Mint Lemonade
1 1/4 cup flour
1/4 teaspoon baking soda
1/4 teaspoon salt
for syrup
1/3 cup DIABOLO Mint Lemonade
2 tablespoons sugar
Directions
Preheat oven to 350 degrees.
Spray 9 inch cake pan with non-stick spray and line with parchment paper. In a large bowl, whisk together eggs and sugar. Add olive oil, milk, and DIABOLO Mint Lemonade to the same bowl.
Sift dry ingredients into a separate bowl. Gradually add the dry ingredients to the wet ingredients. Whisk until smooth. Pour cake batter into prepared cake pan. Bake for 25-35 minutes or until the cake tester comes out clean.
While cake is cooling (for about 10 minutes), combine sugar and DIABOLO Mint Lemonade in a small saucepan. Cook over low heat until the sugar dissolves (about 5 minutes). Once cake has cooled, poke holes in the cake with a toothpick then spoon or brush DIABOLO syrup over cake. Let cake cool completely while it absorbs the syrup.
glaze (optional)
1 cup confectioners' sugar
2 tablespoons fresh lemon juice
pinch of salt
Combine the confectioners' sugar, lemon juice, and salt in a bowl, whisking until smooth. Pour glaze over the top of the cooled cake and allow to drizzle down the sides.
DIABOLO is a type of French Soda, and it was inspired by the iconic French refreshment "Le Diabolo". One should not sacrifice taste to stay fit and healthy, and this is why DIABOLO redefined the sparkling refreshment. DIABOLO is a healthier alternative to regular sodas for the whole family. DIABOLO's all natural sparkling refreshments are available in 4 fun flavors: Dragon Fruit Plum, Blueberry Lemonade, Mint Lemonade and Tangerine Pomegranate. They've also produced 2 energizing versions for those that need an energy boost. You can find your favorite DIABOLO beverages at your local Bashas' store.