Thanksgiving has come and gone, and you may have a ton of leftovers that you're not sure what to do with; or, perhaps you want nothing to do with them! Never fear, King's Hawaiian has a glorious recipe that will combine your leftovers into one recipe. These mini pot pies are perfect for kids because you won't have anything left to throw away. Enjoy this savory recipe while you decorate your home for the holidays.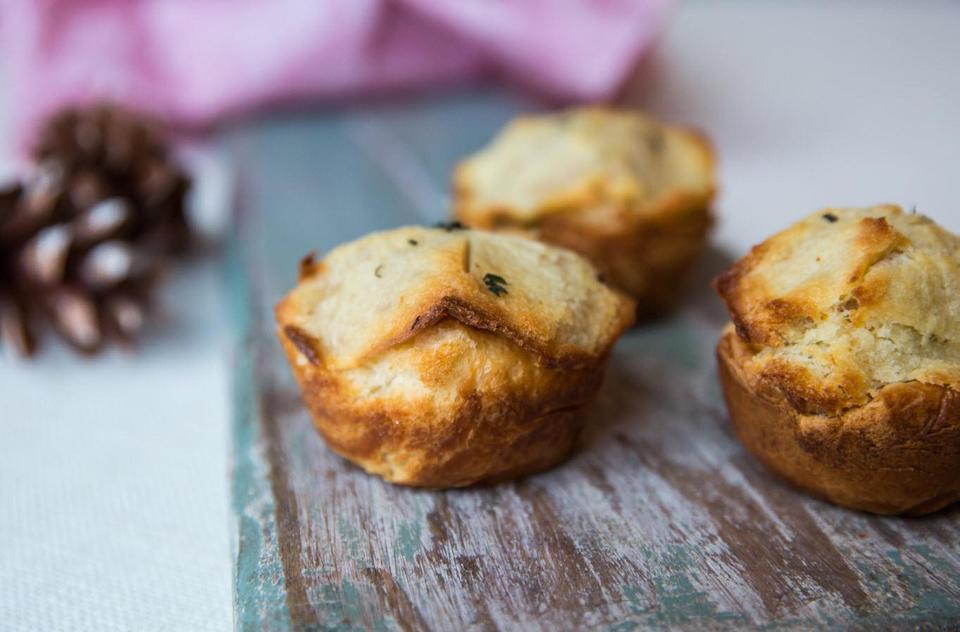 PREP: 20 minutes | COOK: 15 minutes | SERVES: 12
Ingredients:
2 1/2 tablespoons unsalted butter
3 tablespoons butter
1/2 large Shallot, chopped finely
2 garlic cloves minced
2 cups Cooked turkey, cubed
8 ounces Canned corn, peas and carrots (or leftover veggies from Thanksgiving)
3 tablespoons flour
1 cup whole milk
1/4 teaspoon nutmeg
2 teaspoons Fresh thyme leaves
4 tablespoons Melted Butter
Salt & Pepper to Taste
Directions:
Step 1 : Preheat the oven to 400°.
Step 2 : Lightly butter a muffin tin with 12 muffin cups.
Step 3 : In a large skillet, melt 2 ½ tbs. butter over medium-high heat. Add the chopped shallot and garlic and cook for 2 minutes, or until softened.
Step 4 : Add the turkey and veggies and cook for another 2 minutes.
Step 5 : In a small saucepan melt the 3 tbs. butter then add flour and cook for 1 minute.
Step 6 : Whisk in the milk and cook, stirring constantly, until thick. Add salt, pepper, and nutmeg.
Step 7 : Add the milk mixture to the turkey mixture. Mix well and set aside.
Step 8 : Remove ¼ of each dinner roll and reserve.
Step 9 : For each remaining ¾ piece of roll using a rolling pin flatten into a dough and then mold into each muffin cup, filling all 12 cups.
Step 10 : Fill each muffin tin evenly with turkey mixture.
Step 11 : Using a rolling pin, roll the remaining ¼ piece of each roll into a dough and cover the turkey mixture with the dough.
Step 12 : Brush tops of bread with melted butter and bake until rolls are crispy, about 15 minutes.
You can find all of your favorite King's Hawaiian products at your local Bashas'.