Gear up for the big game with these oven-baked, spicy wings. Pringles® Lightly Salted potato crisps add flavor and crunch.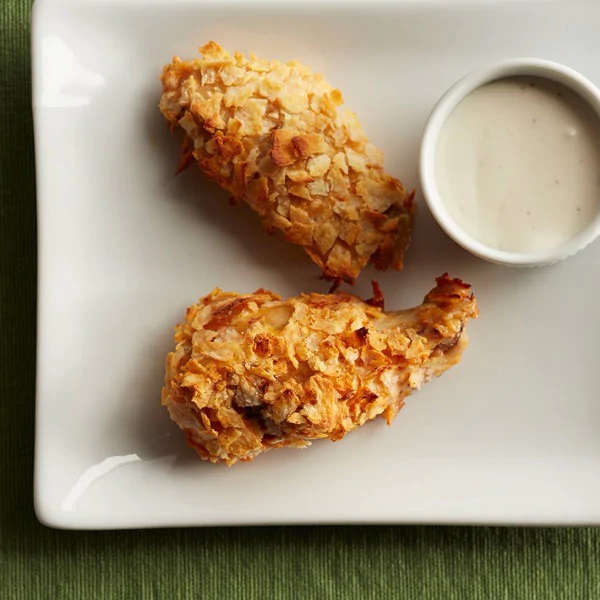 Prep Time: 20 minutes | Total Time: 45 minutes | Servings: 10
Ingredients:
1 container (5.2 oz.) Pringles® Lightly Salted potato crisps (coarsely crushed to 2 cups)
1 teaspoon onion powder
1 teaspoon paprika
1/2 teaspoon garlic powder
1/4 cup all-purpose flour
2 eggs, slightly beaten
1/4 cup cayenne pepper sauce
1 3/4 pounds whole chicken wings (about 10 wings)
3/4 cup creamy blue cheese salad dressing or ranch salad dressing
Directions:
Step 1: On large piece of wax paper combine crushed PRINGLES Lightly Salted potato crisps, onion powder, paprika and garlic powder. On second piece of wax paper place flour.
Step 2: In shallow dish whisk together eggs and pepper sauce.
Step 3: Cut wings into three sections. Discard wing tips.
Step 4: Roll wing pieces in flour, shaking off excess. Dip into egg mixture, completely coating. Roll in potato crisps mixture, gently pressing crumbs onto wings. Place on 15 x 10 x 1-inch baking pan coated with cooking spray. Bake at 425°F for 25 to 30 minutes or until no longer pink, turning once after 15 minutes.
Step 5: Serve wings with salad dressing as dipping sauce
You can find all the ingredients in this recipe at your local Bashas'.