Tis' the season for pumpkin and spice. Here's a recipe for a sweet and wholesome quick bread that's the perfect treat to pack in a lunchbox. This is an easy recipe for children to help create.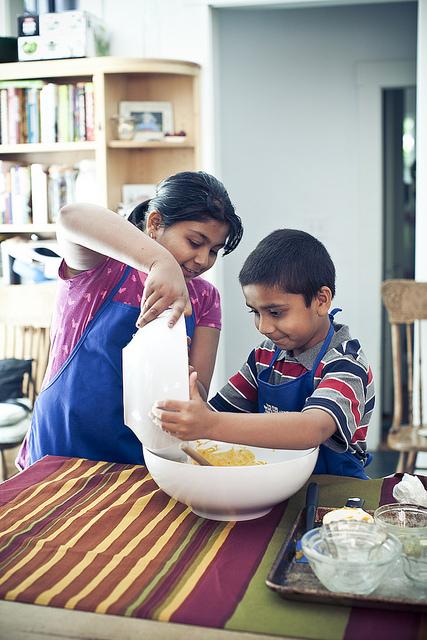 HANDS-ON TIME: 25   |    TOTAL TIME: 80   |    MAKES: 12 SERVINGS
KITCHEN GEAR
8- x 4-inch metal or glass loaf pan
Measuring cup
Measuring spoon
Small mixing bowl
Whisk
Can opener
Large mixing bowl
Large spoon
Electric mixer (if you have one)
Toothpick
Cooling rack
INGREDIENTS
Cooking spray (or vegetable oil)
1 cup whole-wheat flour
1⁄2 cup all-purpose flour
2 tablespoon toasted sesame seeds or flaxseed
1 1⁄2 teaspoon baking powder
1⁄2 teaspoon ground allspice
1⁄2 teaspoon ground cinnamon
1⁄2 teaspoon ground nutmeg
1⁄4 teaspoon ground cloves
1⁄4 teaspoon salt
3⁄4 cup canned pumpkin (not pie filling)
6 tablespoon canola oil
1⁄2 cup honey
3 tablespoon dark brown sugar
2 unit large eggs
3 tablespoon raisins
3 tablespoon dried cherries
INSTRUCTIONS
Wash your hands with soap and water, then gather all your equipment and ingredients and put them on a counter.
Turn the oven on and set the heat to 350 degrees. Spray the loaf pan with cooking spray (or grease it with oil).
Put the flours, seeds, baking powder, allspice, cinnamon, nutmeg, cloves, and salt in the small bowl and use the whisk to mix well. Set aside.
Put the pumpkin, oil, honey, brown sugar, and eggs in the large bowl and use the mixer or a spoon to combine until well blended.
Pour in the dry ingredients and mix well.
Add the dried fruits and mix well.
Pour the batter into the prepared pan. Once the oven temperature has reached 350 degrees, put the pan in the oven and bake until a toothpick, when you stick it into the loaf, comes out clean with no batter on it, 50-55 minutes.
Set aside to cool in the pan. Turn the loaf out onto the cooling rack and let cool completely. Cover and leave at room temperature for up to 3 days.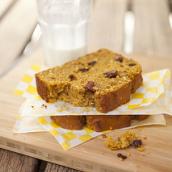 You can find all of the ingredients for this recipe (and others!) at your local Bashas'. For more recipe inspiration visit ChopChopFamily.org and sign-up for their Kitchen Newsletter here. ChopChop Family's goal is to enrich the lives of families by inspiring and teaching them to cook and eat real food together, while having fun and learning essential skills for a full life.