Fall is one of our favorite times in Bashas' produce department. The sun is low, the days are short, and Arizona's fall growing and harvest season is in full swing. From Yuma to Buckeye and Maricopa, teams of Bashas' produce experts are at Arizona farms across the state, sending the very best of the first fall harvest to your local neighborhood Bashas'.
What does that mean for you? A whole season of fresh flavors from local Arizona farms, arriving fresh at Bashas' three times a week – and hopefully at your dinner table soon after.
The Heart Of Thanksgiving
We know your holiday preparations are in full swing and the color of this fall's harvest is one of the best we've seen in recent memory. From the crispest celery, romaine and spinach to red Russian kale and the brightest red, yellow and green bell peppers, you'll find every color of the season. Bashas' has more than seven varieties of hard squash this season. And don't forget fresh yams and sweet potatoes for your holiday classics.
Don't Forget. But Don't Wait!
Ready to try that new fresh cranberry recipe this year? Now is the time! Bashas' and Ocean Spray™ are bringing fresh cranberries to your table just in time for Thanksgiving. But don't wait. These will go quickly!
Fresh culinary herbs can make all the difference for that secret stuffing recipe. Don't worry, we'll keep your secret. Bashas' large selection of organic fresh herbs includes organic sage directly from Arizona's local Duncan Farms.
Apple Passion
We admit it. Bashas' produce experts are pretty passionate about our apple selection. That's why you'll find up to 14 different varieties available throughout Bashas' neighborhood stores. From old favorites like the classic macintosh to honey-crisp, sweet tangos and the prettiest pink lady apples, you'll find a fresh variety of apples from regional farms throughout the fall harvest.
Ever notice our apples are cool to the touch? That's because, unlike some of our competitors, we display apples on refrigerated tables. Why? So that bright, shiny color and crisp, fresh flavor remains long after it's arrived in your family's favorite fruit bowl.
Don't Forget The Flowers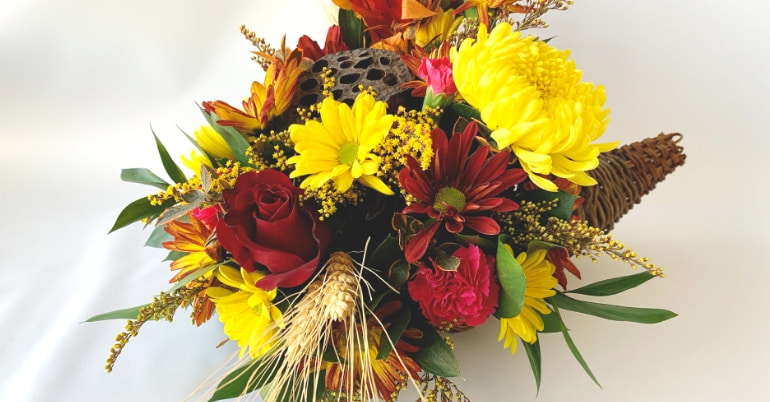 Whether you're setting your holiday table, lifting the spirits of a friend or simply taking in nature's beauty, Bashas' Floral experts agree — you never need an excuse to treat yourself to flowers. You deserve it! And this holiday season has delivered a rich bouquet to your neighborhood Bashas'.
Not sure where to begin? Just ask for help. Our expert floral team can help you.
Just Arrived
Bashas' best roses for the ones you love are arriving at your neighborhood store by the dozens each week. $9.99/dozen.
Chrysanthemums to brighten every corner of your home.
Orchids because no one needs an excuse to be kind to themselves.
Coming soon in early December! Classic poinsettias to ring in the holiday season.
Excuse-free Candy
Sometimes a Reese's Peanut Butter Cup speaks louder than a rose. Flowers say "I love you." But chocolate says "I understand you." Make that special someone's smile just a little bit wider with a Bashas' candy bouquet. A Bashas' Floral Member can customize any candy bouquet just for you! Perfect for sweet tooths, graduations, and care packages.
Did You Know?
Did you know Bashas' Floral department also has one of the largest selections of custom balloons? Mix and match from shapes, sizes and colors, including metallic 5-foot balloons for that very big occasion.