Before you start planning your New Year's Resolutions, enjoy this easy delicious breakfast recipe from King's Hawaiian.
MINI STICKY BUNS
PREP: 10 minutes | COOK TIME: 15 minutes | SERVES: 12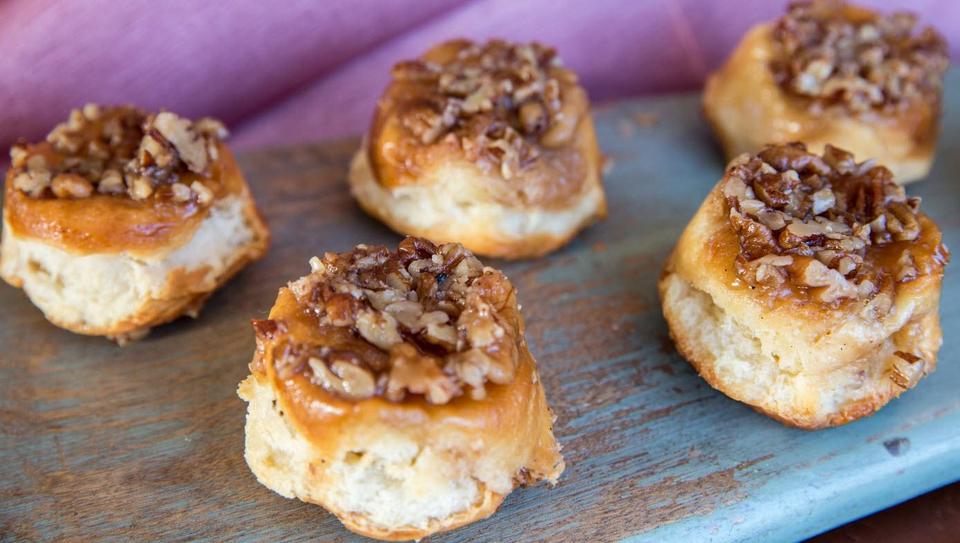 INGREDIENTS:
2 sticks unsalted butter
1 1/2 cups Chopped pecans
1 cup Light corn syrup
4 teaspoons vanilla extract
1 package KING'S HAWAIIAN Original Hawaiian Sweet Dinner Rolls
1/2 stick unsalted butter melted
1/4 cup Brown sugar
2 tablespoons cinnamon
DIRECTIONS:
Step 1 – Preheat oven to 375°.
Step 2 – In a skillet, melt the 2 sticks of unsalted butter, pecans, corn syrup and vanilla. Let the mixture boil for a minute, then remove from heat.
Step 3 – Spoon 1 ½ tsps. of the mixture on the bottom of each of the twelve muffin cups in a muffin tin.
Step 4 – Split each roll in half, making sure not to separate the top from the bottom.
Step 5 – Pour ½ tbs. of the melted butter onto the bottom half of each roll, sprinkle with 1 tsps. sugar and a sprinkle of cinnamon, spread evenly.
Step 6 – Bake for 12 – 15 minutes or until golden brown.